We just recently met this beautiful soul Erla Sól that totally swept us off our feet with her presence. She is a herbalist, DJ, creator that has a special aura and a deep knowledge on all things holistic health. We could have talked for hours when she came and visited us at the Rvk Ritual space and just had to get her to share with you all some of her wisdom. So we asked her to answer a few questions for us:
NAME:  Erla Sól 
CREATIVE OUTLET: Herbal formulation & wildcrafting, writing, dj-ing
BUSINESS: erlasol.earth  // erla.substack.com // @erla___sol 
LOCATED: Reykjavík & Massachusetts
SUN, MOON, RISING: Leo Sun, Libra Moon, Virgo Rising
HUMAN DESIGN: Generator 3/5 with Emotional Authority
FIRST THING YOU DID THIS MORNING & MORNING ROUTINE?
Today I woke up late and started the day with a warm cup of turmeric ginger tea while doing my gua sha and listening to my astrology forecast for the week ahead, taking notes and planning my energetic strategy. 
Every morning I make a warm herbal tea. I do my skincare and step out on the balcony for a few deep breaths and a big glass of water. I then drink my tea and gua sha or ice roll my face while I write my morning pages, clearing my mind and checking in with myself for the day. I use this time to reflect on my soul evolution and astrological developments of the week that are affecting my growth. I write what I'm grateful for, excited about, and manifesting. I then meditate, listen to affirmations, and stretch listening to Miracle Tones to align my aura for the day. Then I have my coffee & breakfast and listen to my "daily pep talk" on Sirius Joy, the evolutionary spiritual astrology program by the wonderful Christopher Witecki. While I get ready I like to listen to my Human Design chart or positive programming on Jenna Zoe's MyHumanDesign app. When I have the time I love to go to the pool before the external day starts, alternating between the cold tub and the steam room.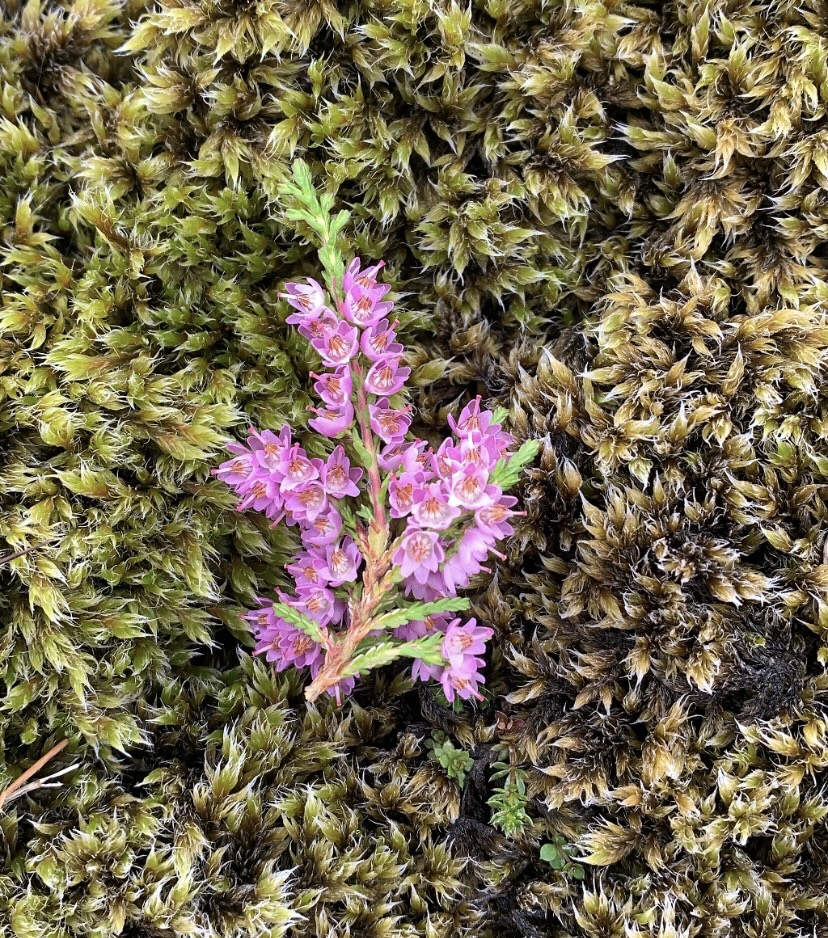 WHAT IS YOUR BACKGROUND?

I grew up in between rural Massachusetts and Iceland. My parents divorced when I was young and I moved to the States with my mother and came to visit my father in Iceland for all my summer vacations and school breaks. I lived a double life and have always felt connected to my roots here in Iceland, particularly to my family's farm in Borgarfjörður. My mother is a horse trainer and yoga instructor, so I grew up in her sphere of influence with all things holistic lifestyle and connection to nature. I became deeply fascinated with yoga and spirituality when I was 15 and knew I wanted to work one on one with people to bring them into deeper alignment with their soul and their origins. I decided to study Holistic Psychology at Lesley University along with Expressive Arts Therapy, particularly Dance & Movement Therapy. From there I became interested in the subconscious mind and how we create our lives based on our thought patterns and consistent actions. 
In my early 20s I had the opportunity to work as an account executive in the natural supplement industry and went full throttle into corporate sales. I devoted my spare time to learning as much as I could about the body and physical vitality, particularly the microbiome and the foundational importance of digestive health. With such fascination for the body I decided to study clinical herbalism, thinking I would eventually start my own practice. After a few years of working as a herbalist, I realized I also wanted to work with the mind, consciousness, holistic psychology, and our connection to the universe. Working with the body is extremely interesting, but I found that it wasn't satisfying for me since I have always known I want to work on the level of the soul. Herbalism will continue to be a foundational aspect of my framework, but refocusing my vision on the spiritual aspect of wellbeing feels so right, and is what I wanted to do all along. 
Currently I'm really into evolutionary astrology teachings, Human Design, Icelandic herbalism, affirmations, Pilates, Barre, and yoga. Movement has always been a major component of my practice and continues to become more and more interesting to me. I love movement techniques that can be done anywhere, particularly low impact ones that improve mobility, flexibility and strength to live a free flowing lifestyle. I've been drawn to Pilates for this exact reason, as it is a method of training that requires no equipment and brings freedom, radiance, cleansing, and alignment to the body. I just completed a Barre instructor training which combines yoga, Pilates, and dance. It's a fun and free way to move the body, and this type of connection to the body and spirit is something I am so excited about. I love writing and have been very focused on my blog on substack. I've also been writing blog posts and formulating herbal products for wellness brands, which I really enjoy.
WHAT IS THE MOST IMPORTANT WAKE UP CALL OF YOUR LIFE?
I had kidney failure 3 times in one year and became bedridden for 2 months. I was living in a city I didn't feel safe in, traveling between cities nonstop, working a job that was misaligned, and investing in friendships where I felt unseen. This caused me to move back home to my parents to reset and then the pandemic hit. I married my husband and we moved to Iceland.

HOW WOULD YOU DESCRIBE YOUR MISSION (with work & life)
I trust that whatever the heart believes is possible is in fact being manifested and will become reality. My heart is fully invested in bringing the intelligence of nature deeper into the collective consciousness. I am committed to facilitating practices and systems that serve our evolution. The positive evolution of humanity illuminates each of our individual gifts and purposes, which so many of us have lost touch with or lost faith in over time due to conditioning and outdated structures. I believe each individual is here to share their unique light, their connection to Spirit with the world and be a part of the evolution of mankind to live in deeper harmony with the planet and cosmos. I am here to teach that we are headed in the right direction, and we will manifest the world we want to live in if we actually believe we can pull it off, by living in alignment in connection to our true selves and the Earth.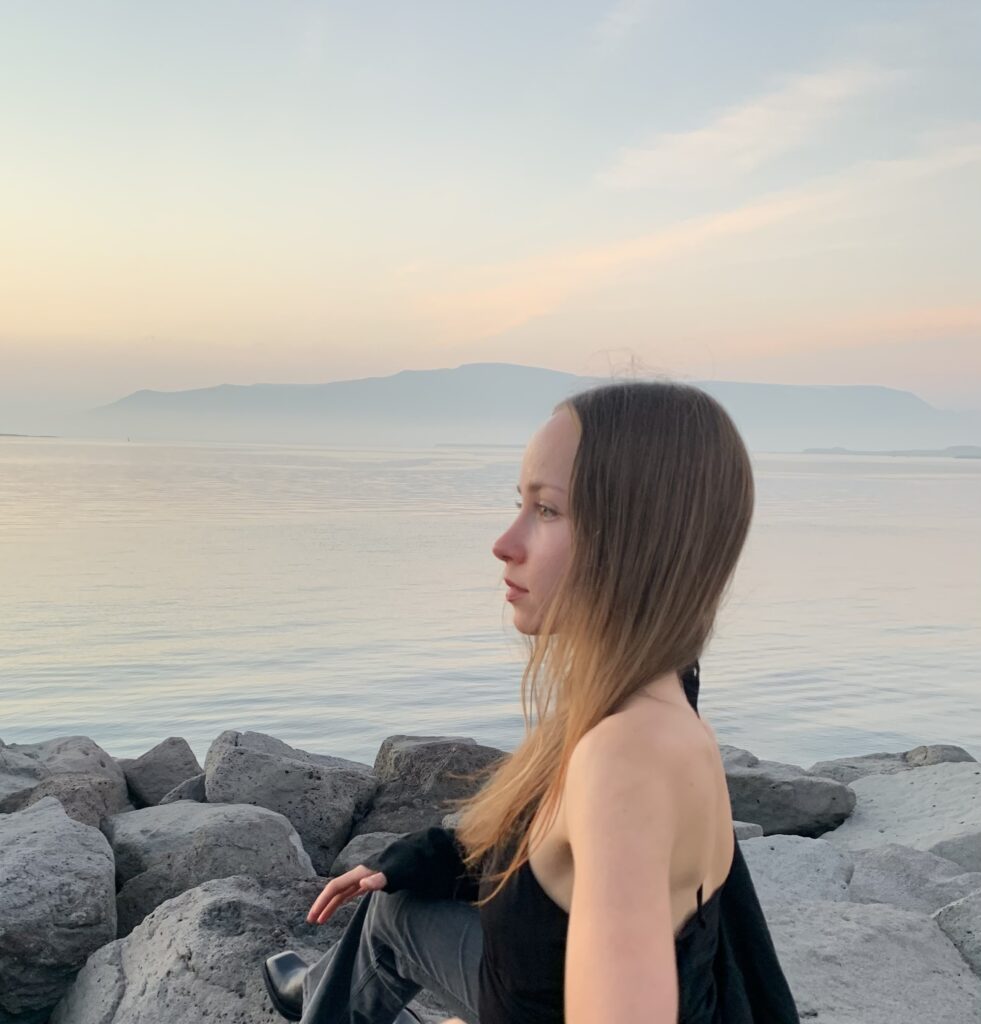 WHAT HAS HELPED YOU THE MOST ON YOUR WELLNESS/SELF CARE/SPIRITUAL JOURNEY?
Taking time off and stepping away from responsibilities on a consistent basis. No matter how much I want to keep going and keep creating, I know I have to take space and enjoy time with family and friends. 
DO YOU HAVE A PERSONAL SELF PRACTICE OR USE ANY TOOLS TO KEEP YOUR MIND/BODY HEALTHY?
Omg where do I even begin to explain… hahaha
I practice daily meditation, journaling, affirmations, and subconscious work. Astrology is a big part of my life and I am always assessing the current transits and applying them to my soul evolution. Same with Human Design, regularly checking in with myself to see if I'm living according to my design and making necessary lifestyle adjustments to keep myself in alignment. I prioritize daily movement by stretching all the time, practicing Pilates, Barre, infrared hot yoga a few times per week, and long walks. I try to get outside every day, even if it's just a walk around the block or a date to the pool with a friend. I go to the infrared sauna to detox, occasional acupuncture, hydrafacials, and colonics to clear out excess physical and energetic material. I eat a very simple diet, lots of fruits, greens, root vegetables, and clean proteins to fuel my body. I incorporate herbs by drinking a strong herbal infusion all day, liver cleansing greens powder, and wild tinctures. To keep my mind healthy, I journal every day, keep strict boundaries with my phone & work. I try to do something new every week even if it's just a walk in a different part of town or try a new cafe. I like to get out of my space on a regular basis going to stay overnight at my family's farm, a summerhouse, or stay with family or friends for a weekend. Keeping the neural networks constantly expanding, shifting, and fresh is vital for an inspired and happy mind. I try to keep my life consistently dynamic and free flowing.
HOW DO YOU RELAX: 
If I'm tired, I just take a shower and put on a cold sheet mask and ice roll my face while watching something narrated by David Attenborough. I lay with my legs up the wall while listening to a meditation before sleep. If I have some time I follow my little reset program I can always fall back on. I get on my mat to foam roll & stretch in any way necessary, go to the sauna & dry brush & cold dip, massage myself with herbal oil, hydrate, make a nourishing meal, drink tea, and read a book.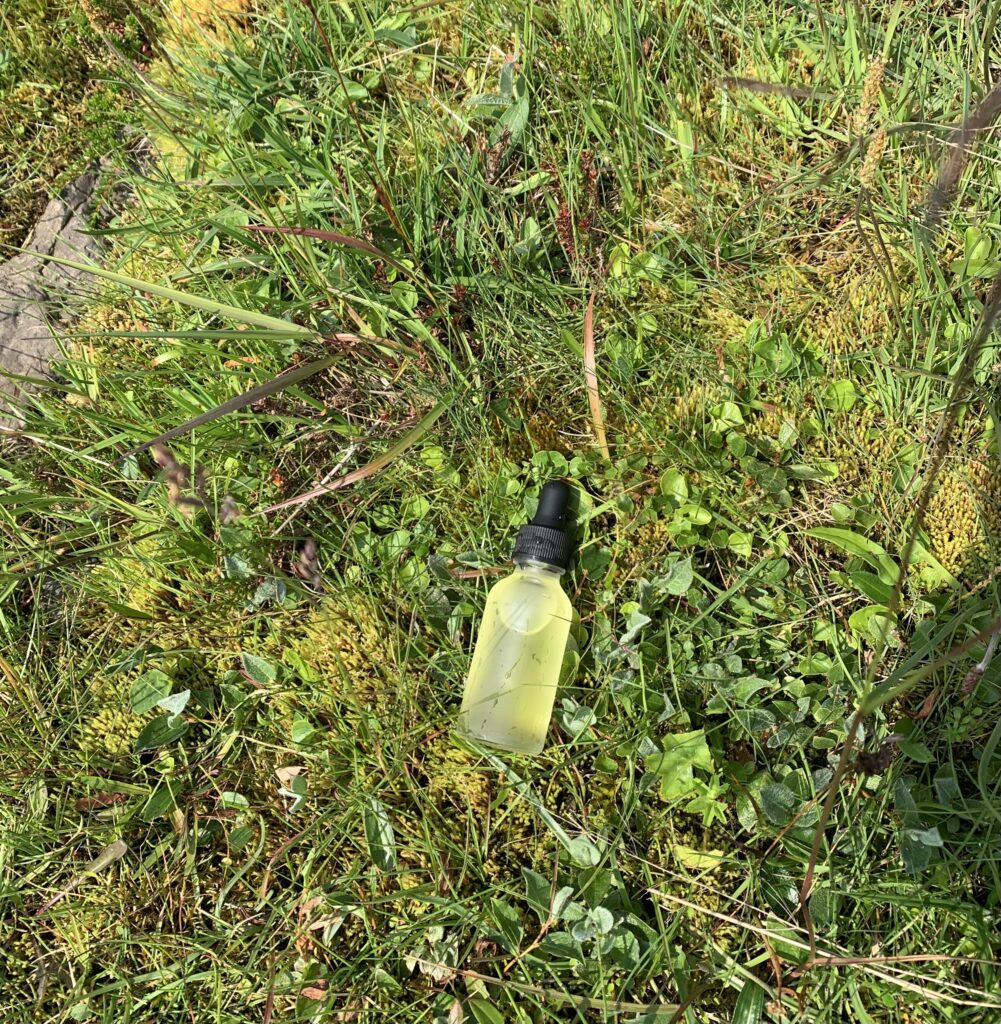 BEST BEAUTY TIP YOU KNOW OF: 
Create a custom-to-your-soul multilayered beauty ritual that can be done every day. The first part should be something internal, such as mindfully drinking hibiscus or rosehip tea for glowy skin or putting lymph cleansing herbs like cleavers or burdock into your smoothie or tea. One part should be something physical to enhance your radiance such as a gua sha routine, ice rolling, infrared sauna, or a face mask. Another part should be something energetic to balance your nervous system which dictates how your auric field looks and feels to others, which will affect how your beauty is perceived externally and by yourself. When we have a regulated nervous system we are calm, collected, consistent with our energy, and able to radiate our truest form of beauty. This can look like meditation, breathwork, subconscious work, affirmations, grounding, or connecting to nature. 
I also love rosewater, it's a beautiful tool to use anywhere to raise your vibration and to connect to your femininity and grace.
FAVORITE SPOT IN REYKJAVIK: 
Lola Florens for flower tea. For overall experience… Seltjarnarneslaug
HEALTH PHILOSOPHY: 
It should be fun to live in your body. Do what you need to do to feel the most like your true self and live free in your being so your soul can shine its light. Get to know the feeling you want to feel all the time in your body and  understand what helps you maintain that frequency as consistently as possible. I am committed to a holistic and integrative approach to wellness. I believe that a healthy life is based on a positive mindset first and foremost. No matter how well we eat, how much we exercise and meditate, we will never be truly healthy until we are able to relax into our lives and enjoy the path we are on. I'm a very spiritual person and I believe each of us chose the lives we were born into before we came here, choosing to master certain themes and lessons in order for our soul to evolve and grow, contributing to the collective evolution of humanity and the universe. Spirituality, mindset, and how we think about ourselves and our purpose day to day is a major component of holistic wellbeing and that is truly the foundation of true lifelong health.
ALWAYS IN YOUR CUPBOARD? 
Pumpkin seeds, goji berries, triphala, celtic salt, dandelion tea, chlorella
3 FAV INSTAGRAMS
@evolutionary_herbalism
@bodyfwrd
@dr.ryan.monahan
THREE THINGS IN YOUR PURSE ? 
Mineral Fusion lipstick butter
High vibrational rosewater from Heritage Store 
SOMEONE YOU ADMIRE? 
Jenna Zoe! The way she's talking about Human Design and conveying its impact on consciousness is so beautiful and joyful. She's sharing something so esoteric on such a grand scale but makes it so understandable and applicable to daily life. 
SOMETHING YOU ARE PROUD OF? 
Not being afraid to listen to my gut feelings and honor my inner voice, even if it doesn't seem "logical" or make sense to other people. This has looked like taking massive leaps of faith in my career, casting myself into unknown waters. I have had several positions that qualify me to have "made it" in the fields I've been in, but I wasn't actually satisfied. I knew that I had to leave everything behind to fulfill my soul mission and live my truth. I've had to completely scrap everything and risk my stability in order to fuel the fire of the creative life I know I was born to live. It has been a challenge and I've taken steps backward to go faster ahead, such as making uncomfortable financial investments in my further education, moving back in with my parents for a year to get back on my feet, and changing my lifestyle as necessary. But I wouldn't change those moments for the world, for I know being the risk-taker that I am has opened up doors for me I never could have imagined would be possible. Surrendering and trusting in the universe to support me on my process of forward motion has been the most rewarding thing. At this point I just embrace the dynamic flow and constant change in life.
ONE ADVICE FOR ENTREPRENEURS? 
Put blinders on to what is and focus on what could be if you really went for it. Imagine the best possible outcome and commit to living as if you are already there. Even when the outer reality hasn't proven success yet, trust that the universe is working in your favor at all times. Just start walking and fully expect the universe to show up for you, because it will… as long as you are living in alignment with your truth. Go until it says no, because it will never say no. It just says, "not yet" so use those moments to pivot into a direction that continues to feed the bigger vision, hold the line and move forward no matter what. In these pivotal moments, focus on doing one thing every day, big or small. The universe loves consistency. I recommend the book "The Road Less Traveled" by M. Scott Peck.
WHAT IS NEXT FOR YOU ? 
I am currently in school studying Human Design, so in a few months time I will open up to clients my integrative practice incorporating Human Design, herbalism, holistic psychology and so much more. Stay tuned for my offerings in 2024! I am also working on a herbal creation that's been in the works for years, finally launching this autumn. Think wild herbal tinctures, infused with the elements, place-based earth immersive practice, and meditation. I'm also very excited to share the world of Barre and movement techniques with my clients in the future.