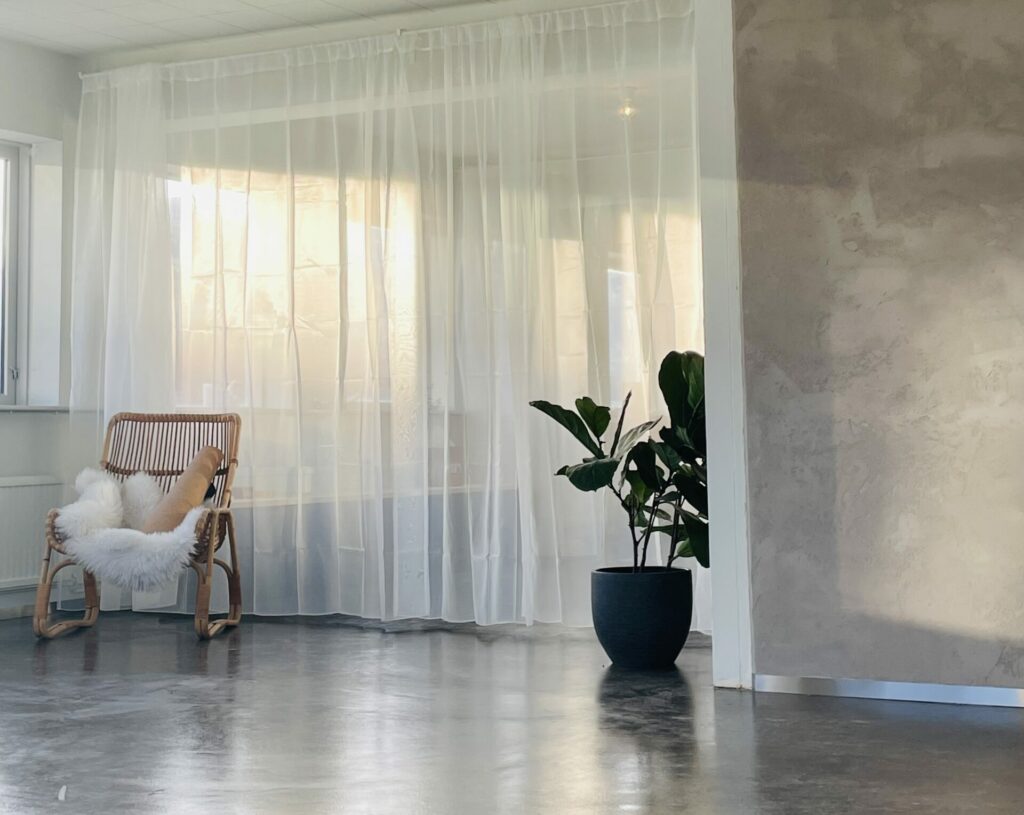 The rvk ritual space is at Seljavegur 2, 3 hæð (above Reykjavíkur apótek)
The Space is a simple boutique yoga studio, a showroom for our webshop and our offices. Our classes and workshop are mostly in Icelandic but we do switch to English in the open classes if needed as our concept is to be all inclusive for all that visit us. The ritual space is a boutique studio, not a full blown yoga studio as you know them to be, curated by us Dagný & Eva to make your yoga/meditation/movement/spiritual journey a beautiful one visually aswell as meaningful and deep. We invite you to join us and try out some of our workshops and classes by sending us an email to info@rvkritual.com 
We have asked some of our favourite teachers to have workshops and courses at the space, so if they are teaching at the space they have our recommendation 100%. 
It´s only the teachers that we would love to take classes with ourselves (and we will be there). 
Check out the coming workshops, the schedule and ongoing closed classes and JOIN US!
Contact info@rvkritual.com for more info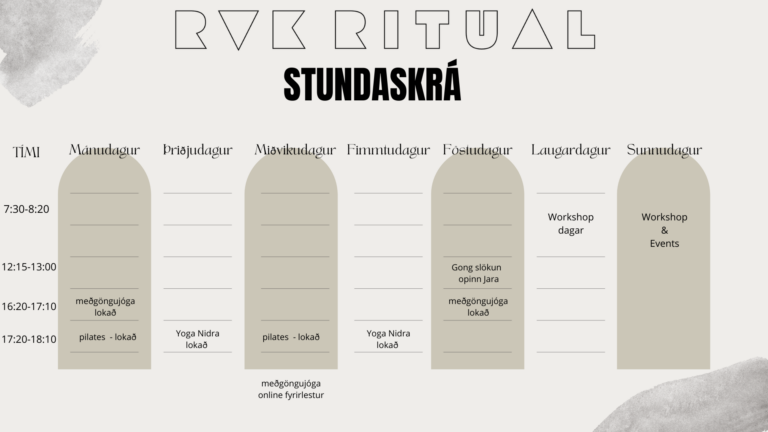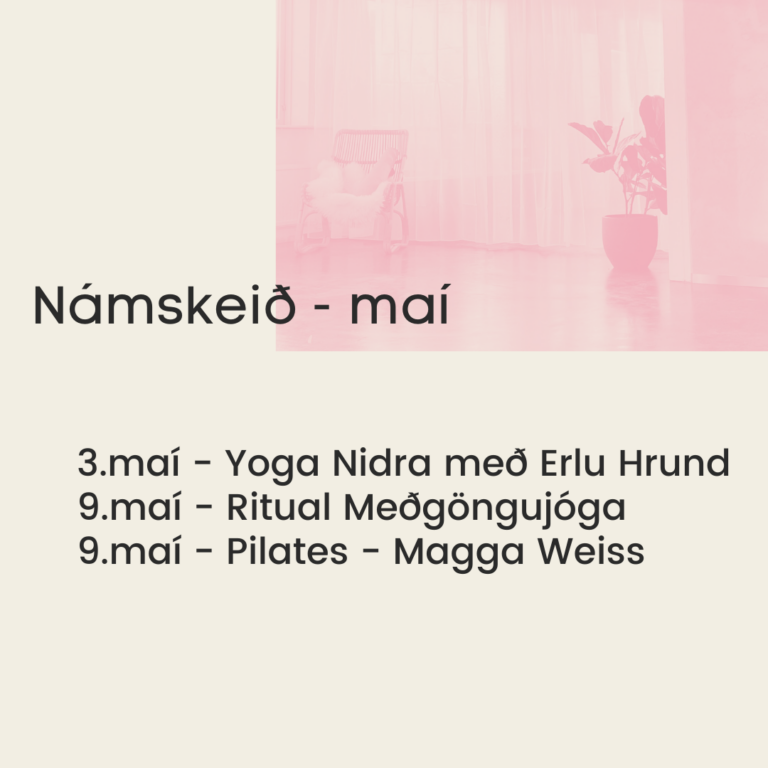 LOKUÐ NÁMSKEIÐ Í THE SPACE Í APRÍL
PILATES: Pilates er ein besta hreyfing sem líkaminn fær og vinnur með að styrkja kvið og bak. Kennt af okkar uppáhalds pilates kennara Margréti Weishappel. Þetta námskeið mun halda áfram á nýju ári og Magga byggja á fyrsta námskeiðinu. Alla mánudaga og miðvikudaga kl 17:20-18:10 + aðgangur að lokuðum instagram hóp. Hefst 9. maí
RVK RITUAL MEÐGÖNGUJÓGA : Jara GianTara og Dagný munu kenna lokað meðgöngujóganámskeið sem felur í sér tíma mánudaga og föstudaga frá 16:20 – 17:10 og netfyrirlestur á miðvikudagskvöldum kl 20:00 um ýmis efni tengd meðgöngu. 4 vikur og byrjar 9. Maí
YOGA NIDRA – með Erlu Hrund – Yoga nidra er leidd djúpslökun sem hefur djúpstæð áhrif til heilunar, losar um streitu, bætir svefn, umbreytir neikvæðum hugsanamynstrum og skapar jafnvægi Þriðjudaga og fimmtudaga kl 17:20 – 18:10  – Hefst 3. maí 2022
með öllum námskeiðum fylgir aðgangur í gong slökun & te á föstudögum í hádeginu (12:15-12:55) 
Einnig er öllum opið að koma í staka tíma í gong slökun alla föstudaga (2700 kr) Gott er að bóka pláss hér í GONG  eða koma í stakan meðgöngutíma eða pilates. Sendið póst á info@rvkritual.com til að bóka pláss.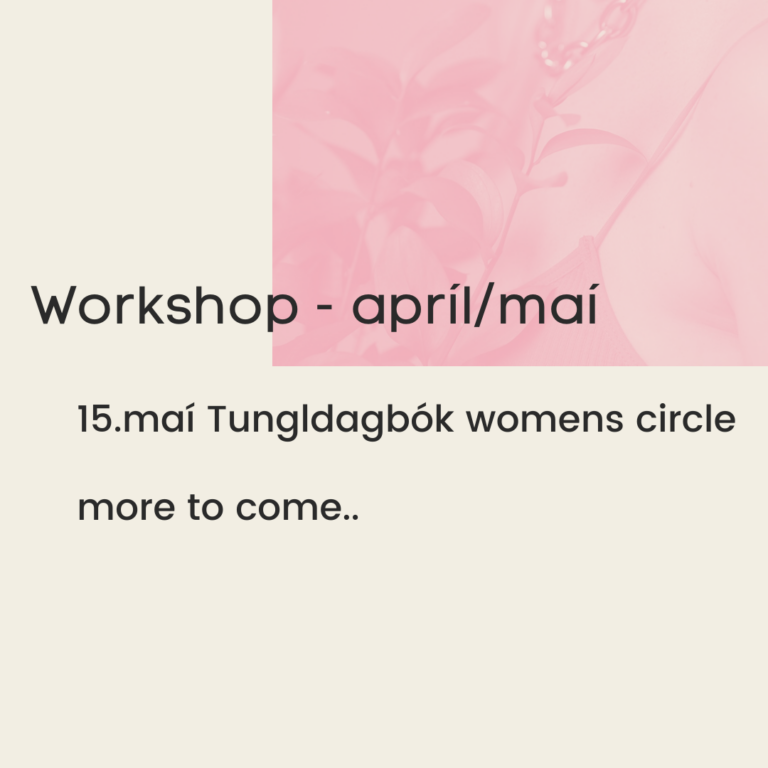 Workshop og viðburðir í apríl. 
Rvk Ritual býður upp á fjölbreytta dagskrá í rýminu af viðburðum kenndir af okkar uppáhalds kennurnum. Framundan í apríl eru:
15.maí – Tungldagbók – full moon circle