RITUAL TALKS is an interview series with creative & inspiring Icelanders. We are happy to start 2023 with an interview with Erna Bergmann. She is a creative director, fashion designer and founder of SWIMSLOW an Icelandic sustainable swimwear brand. She is also a magical yogini and a double Taurus, meaning she makes everything around her more beautiful. Some of you know her from our video interview in The Ritual Club and others have tried her amazing class FLÆÐI & RÓ in the Rvk Ritual space in Reykjavik. She now has her Swimslow showroom in the Rvk Ritual space so you can find this amazing brand at Seljavegur.
NAME:  Erna Bergmann @ernabergmann
CREATIVE OUTLET: Swimslow
LOCATED: Reykjavík
SUN, MOON, RISING: Taurus sun, Taurus moon & Leo Rising.
HUMAN DESIGN: Man Gen.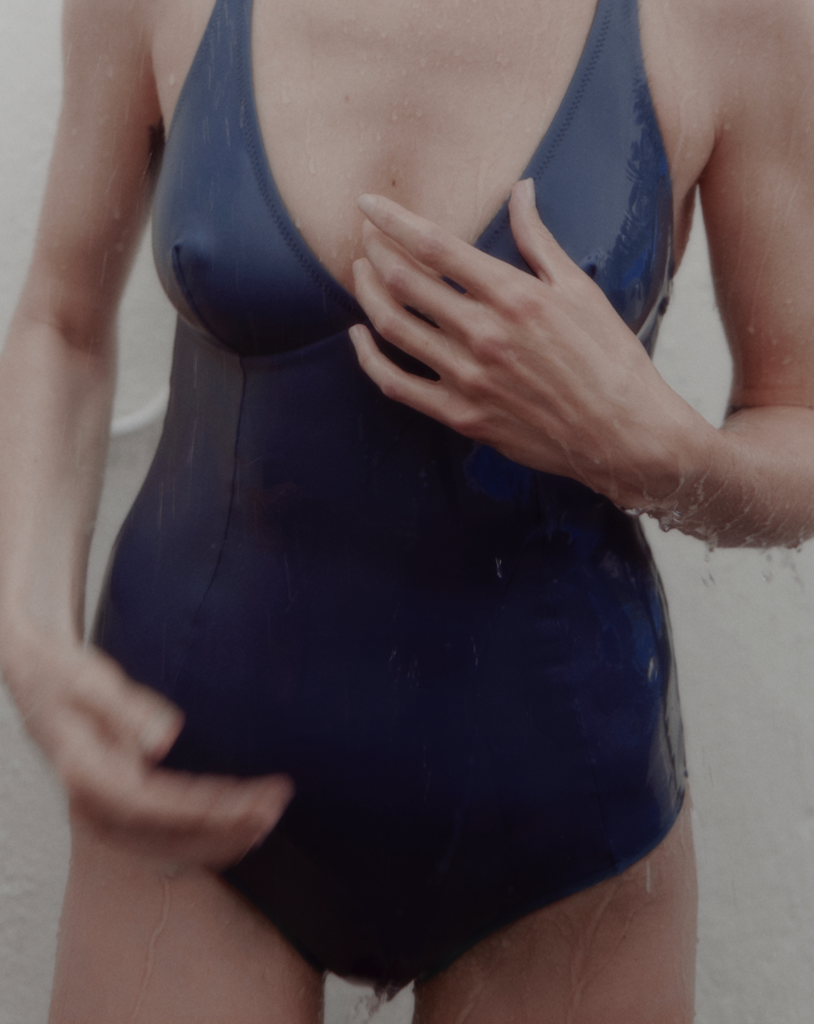 FIRST THING YOU DID THIS MORNING & MORNING ROUTINE?
I start every morning with a hug and cuddles with my children and get them ready for school. Then it´s tongue scraping and a glass of water. Then it´s Iymphatic drainage. I dry brush my body every morning from toe to heart. It increases the bodies overall circulation when used consistently and stimulates the lymphatic system and body´s natural detox flow. Then I shower and finish off with a cold shower in the end. The cold shower keeps your skin radiant, improves circulation and strengthens the nervous system. Then it´s good clean skincare for the face and body. Even a little gua sha if I have the time. I am a slow morning lover. After my morning rituals my mind is ready to work.
WHAT IS YOUR BACKGROUND?
I am fashion designer and a great lover of fashion, art and photography. But above all I am a mother. That´s my biggest and the most important role in life. I have a BA in fashion and an MA in design. I am a huge research nerd and I moodboard every single day for all aspects of my life. I am very curious and interested in people – and I think that keeps me on my toes. I have worked in various fields that involves fashion. As a designer, creative director, editor, magazine publicist, stylist, costume designer, TV host, DJ and in fashion retail. It´s taurus energy all around.
WHAT IS THE MOST IMPORTANT WAKE UP CALL OF YOUR LIFE?
I got a cancer scare in 2020. It totally changed my life vision. Two surgeries and 10 holes and scars on my body. So thankful to be alive.  Because of my story Iymphatic drainage is a big part of my rituals and of course clean skincare.
HOW WOULD YOU DESCRIBE YOUR MISSION WITH SWIMSLOW?
The core of my brand is to make women feel good. To encourage them to take a moment to nurture themselves and grow.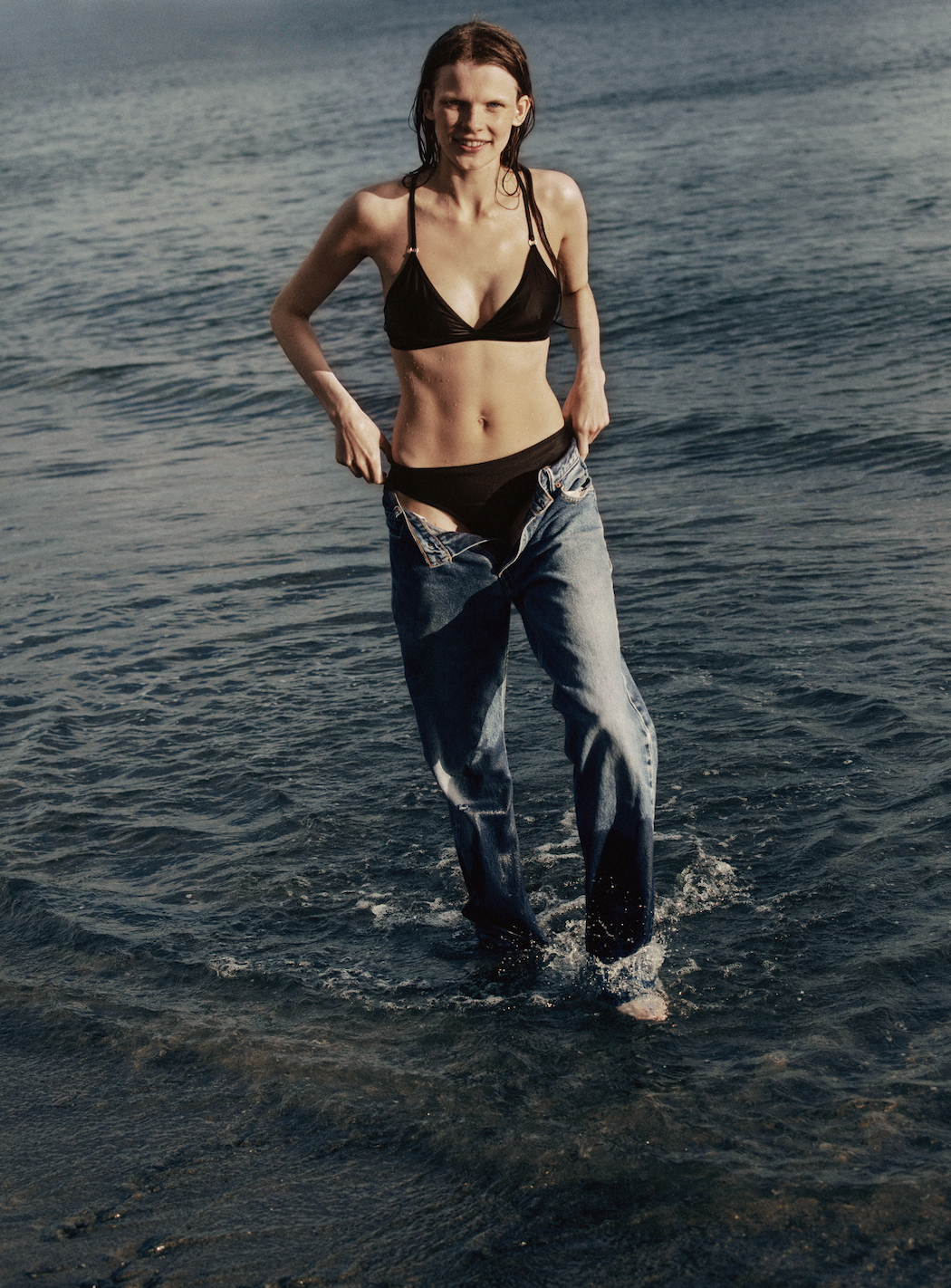 WHAT HAS HELPED YOU ON YOUR WELLNESS/SELF CARE JOURNEY? 
Consistency is the key.
DO YOU HAVE A PERSONAL SELF PRACTICE (MEDITATION, BREATHWORK, MOVEMENT, THERAPY ) OR USE ANY TOOLS TO KEEP YOUR MIND/BODY HEALTHY? There are so many things that have helped me and I swear by… but here are a few of my favorite things:
Mediation and Kundalini yoga changed my life few years back. The benefits are endless.
Yoga nidra has helped me on so many levels.
Float Therapy with Flothetta is magical.
Cold plunges and sauna are life changing.
Practice gratitude – it takes you half the way.
My go to breath work is "Breath of fire". It is very cleansing and energizing. Boosts the immune system and strengthens the nervous system. It´s an every day ritual and my favorite meditation is the mantra Ra ma da sa. It´s a very healing practice.
—-
HOW DO YOU RELAX: Yoga nidra is my thing. I can´t praise it enough. If I were the queen of Iceland I would command all the nation to practice yoga nidra every week. And actually while building up after the cancer scare I practised nidra every week day for a few months. It was amazing to feel my energy come back and even see it visually on my body.
But keep in mind.. Life is all about balance. Sometimes a good binge watch session of a favorite TV series does the trick.
BEST BEAUTY TIP YOU KNOW OF: Enough sleep and drink loads of water.
FAVORITE SPOT IN REYKJAVIK: Sundhöllin is my spot. I am addicted to the steam bath and the cold plunge. One tip: Use the outdoor changing rooms. That will keep you fresh and so clean clean all day long.
HEALTH PHILOSOPHY: Balance (in every area of your life).
ALWAYS IN YOUR CUPBOARD? Coffee, Feel Iceland Collagen, Vitamin D, Saltverk Sea Salt and Olifa Bio Olive Oil.
3 FAV INSTAGRAMS:
Melissa Wood Health for goals and vision.
Pernille Teisbek for style and fashion.
The insta for my favorite podcast "To Be Magnetic" for life inspiration and reminders.
THREE THINGS IN YOUR PURSE ? 
Lip balm (I'm addicted), keys and a eucalyptus chewing gum.
SOMEONE YOU ADMIRE? Strong women that love and support other women. That are not afraid to listen to their inner needs and stand for themselves.
SOMETHING YOU ARE PROUD OF? My children. I am blessed with four.
ONE ADVICE FOR ENTREPRENEURS? Don´t give up. Show up. Send the emails. Make the calls. Keep up and you will be kept up.
WHAT IS NEXT FOR YOU & SWIMSLOW? 
We will remain to keep our focus on taking small steps with patience down our passion lane hoping to grow and blossom.  We will continue to inspire and support other women to take good care of themselves and to keep track on their wellness path.
I always say WE at Swimslow… so it´s sounds more like a serious big company haha cause that´s my vision. When it´s only a one woman biz. But WE also have some very exciting projects coming up, that I can´t share at the moment. But looking forward to share them with you in 2023.