In the wellness scene in Iceland their are a couple of very bright lights that spread the message of slowing down and taking care in a real authentic way. The lovely Kamilla Ingibergsdóttir or Kakó Kamilla like we call her, is one of them. She is a certified Yoga and Yoga Nidra Teacher and Sound Healer but it was the cacao bean that sent her on a journey inward, to Guatemala and to start her own business.
IN THE RVK RITUAL SHOP
—————————————————————————————————————————
STARSIGN: Taurus
RISING SIGN: Cancer
HUMAN DESIGN: Projector
A OR B TYPE: B type in the Northern Hemisphere and A type everywhere else.
——————————————————————————————————————————
WHAT LED YOU ON YOUR WELLNESS PATH ?
Both my parents are spiritual so wellness and spirituality was a part of my life from an early age. It has never been foreign to me but I did push it away for years resulting in a professional burnout and losing my joy and vibrancy.
I had what looked like a dream career in the music industry from the outside looking in but I lacked purpose and felt jaded and exhausted. I wasn't listening to what my heart and soul were whispering to me. At that turning point in my life I decided to only do what would bring me joy. The interesting thing is that it takes a lot of difficult decisions to do only what brings you joy.
Looking back I can see some pivotal moments that have shaped me into the person I am today and brought me further on my path. Taking my first Yoga class at the age of 23. Learning TM (Transcendental Meditation) at 32. The interesting thing is that at the time these moments didn't show themselves to me as something important. I guess what I'm trying to say is that we are always on a path, sometimes aware and sometimes unaware. It doesn't always have to happen with a huge life transformation.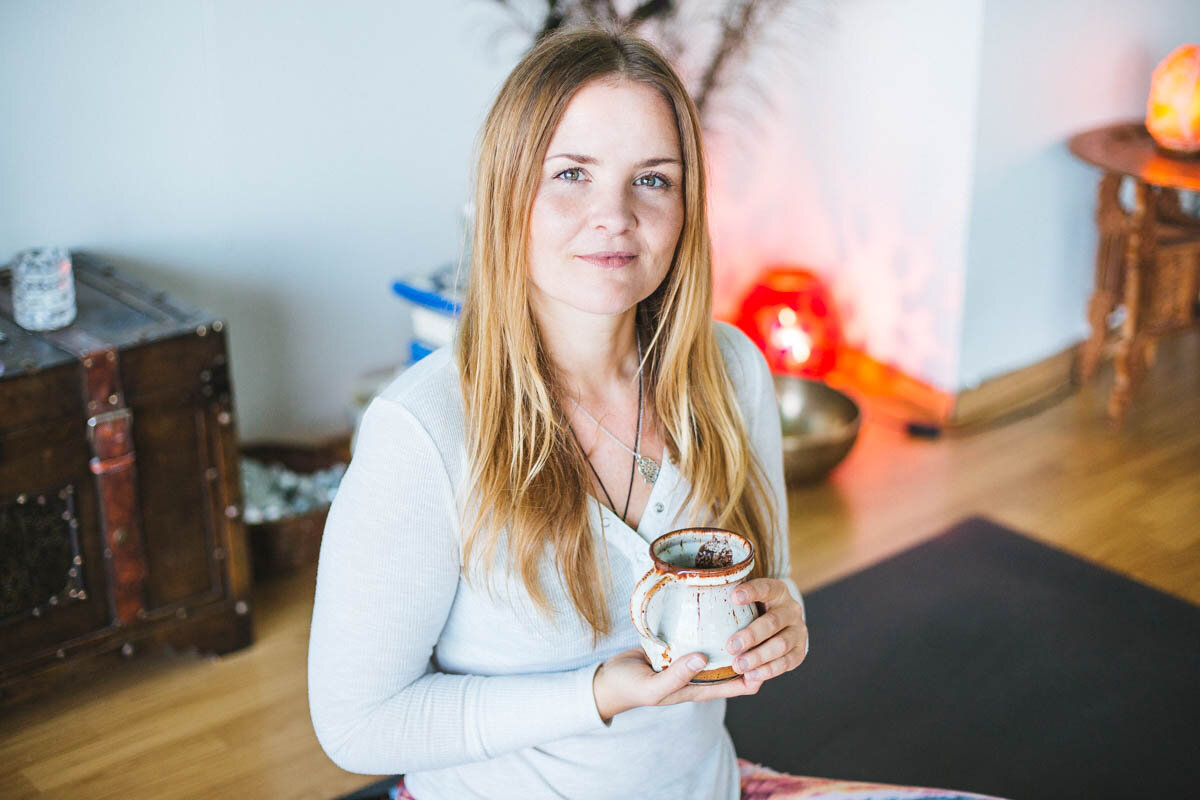 HOW WAS YOUR COMPANY ANANDA BORN ?
Ananda and my website kako.is was born in the flow. I left the Music Industry in 2016 and had no plan. I had saved up some money and knew I needed to take time off as I was exhausted. This was also when I first experienced ceremonial cacao and after that there was no turning back. My life had to change and the cacao was the vehicle for that change. I knew I had to get to know as much as I could about this little bean and a few weeks after I had my first cup of ceremonial cacao from Guatemala I booked my first of many trips there. There was no plan. I was only doing what brought me joy and this is what came of it. Now I have been importing ceremonial cacao to Iceland for three years, I help people go inward and take a break from their often stressful lives and I lead retreats in Guatemala every year. My vision is to keep on growing, both spiritually and professionally.
FOR THOSE WHO HAVEN´T TRIED IT, WHAT IS CEREMONIAL CACAO AND WHAT ARE THE BENEFITS OF IT?
Ceremonial cacao is pure cacao paste made from the beans of the Cacao Theobroma tree. Unlike more processed types of cacao the ceremonial cacao retains more of the nutrients and active ingredients, thus making it more potent. As with other super foods too much heat, chemicals and adding the cacao to dairy products (e.g. to make chocolate bars) diminishes its effects. The key to ceremonial cacao is organic growing and a very gentle process to transform the bean to cacao paste. The cacao is fermented in small batches, sun-dried, lightly heated on a wood-burning plate, hand-peeled and then ground into a pasted that then hardens. To me it is very important that growing is ethical and in harmony with Nature as it is a super-charged food that holds a lot of energy. When all this is in harmony it results in beautiful ceremonial cacao.
The cacao bean has both been studied at Harvard and Yale for its health benefits and recent archelogical findings in Ecuador show that drinking cacao in a ritual setting can be traced over 5000 years back. In Mesoamerican culture cacao is called the food of the Gods and was used as currency by the Aztecs and Mayans. Cacao improves blood flow, stamina and energy levels, is anti-inflammatory, boosts Serotonin and lowers Cortisol levels, which is the body's main stress hormone. I could go on and on but I encourage everyone who is curious to try this heart-opening drink and feel for themselves.
YOU WORK WITH YOGA, SOUND HEALING AND CEREMONIAL CACAO, WHAT ARE THE BENEFITS OF COMBINING THESE THINGS?
Combining these different modalities creates a sort of ritual and I feel like people are missing this ritualistic aspect from their lives. I believe it is connected to feeling a lack of a bigger purpose to life and this whole experience. Maybe that is what religion and religious rituals gave people before but in the last decades fewer and fewer people consider themselves religious. Creating ceremonies combining Yoga, Sound Healing and Ceremonial cacao brings in this ritualistic aspect that I believe we crave and need in our lives and creates a space for us to heal, go inward to connect to ourselves and increase well-being on both a spiritual and physical level.
WHAT HAS YOUR OWN SELF PRACTICE DONE FOR YOU AND HOW DOES YOUR DAILY PRACTICE LOOK LIKE NOW ?
My daily practice, which often changes, helps to connect with my center and simply put, remember who I am. Sometimes I get lost in the speed and demands of society and my daily practice brings me back to myself.
These days my daily practice consists of working with the Akashic Records and doing RTT, Rapid Transformational Therapy, which is the life work of Therapist Marisa Peer. I always like to experiment and try out different things to see how I respond to them. Life is for experimenting! 🙂
HOW DO YOU FEEL BUSINESS GOES TOGETHER WITH SPIRITUALITY & WELLNESS?
I feel like wellness professionals should allow themselves to create abundance in every meaning of the word. This is a fast-growing industry and to reach more people and be of service to more people the infrastructure and business-side of things need to be in order. People should be able to do what they love and what lights them up and make money doing it. There is no shame in that. This idea that a spiritual person can only be someone who doesn't have any money is just an illusion. I want to enjoy having money but not be controlled by it.
WHAT IS NEXT FOR YOU IN 2020?
My year will start in Guatemala with my yearly retreat at Lake Atitlan. This will be the fourth group I bring from Iceland to Guatemala for Yoga, cacao, Sound Healing, exploration, relaxation and adventure. When I return to Iceland in late February I'm starting new projects that are in the preparation phase now. I'm very excited about 2020!
——————————————————————————————————
KAMILLAS RITUALS & FAVOURITES:
MORNING RITUAL:
In Iceland like to start my mornings slowly. Here I am more productive in the second half of the day so I allow myself to have soft and slow mornings, which always start with mantra and prayer. I took me some time to come to this allowance as we live in a society where you are "supposed" to rise early and have everything going full speed early in the morning. That is so not my style when in Iceland!
HOW DO YOU RELAX:
The two ways that bring me most into a state of relaxation are yoga nidra with cacao and the Icelandic public hot tubs and steam baths. It's like pushing the reset button on myself!
BEST BEAUTY TIP YOU KNOW OF:
Beauty comes from within. Follow your bliss and do what lights you up and your beauty will shine through.
FAVOURITE SPOT IN REYKJAVIK:
The swimming pool in Vesturbær.
HEALTH PHILOSOPHY:
All things in moderation.
FAVOURITE PLACE IN NATURE:
Anywhere there is water.
WHEN ARE YOU FULFILLED:
When I am peaceful. This can happen in meditation, doing Sound Healing, with family and friends, in Nature, during Yoga… Luckily I've found many things that bring me peace and fulfill me.
TIPS FOR SUSTAINABLE ENTREPRENEURS:
Change yourself, then the world.