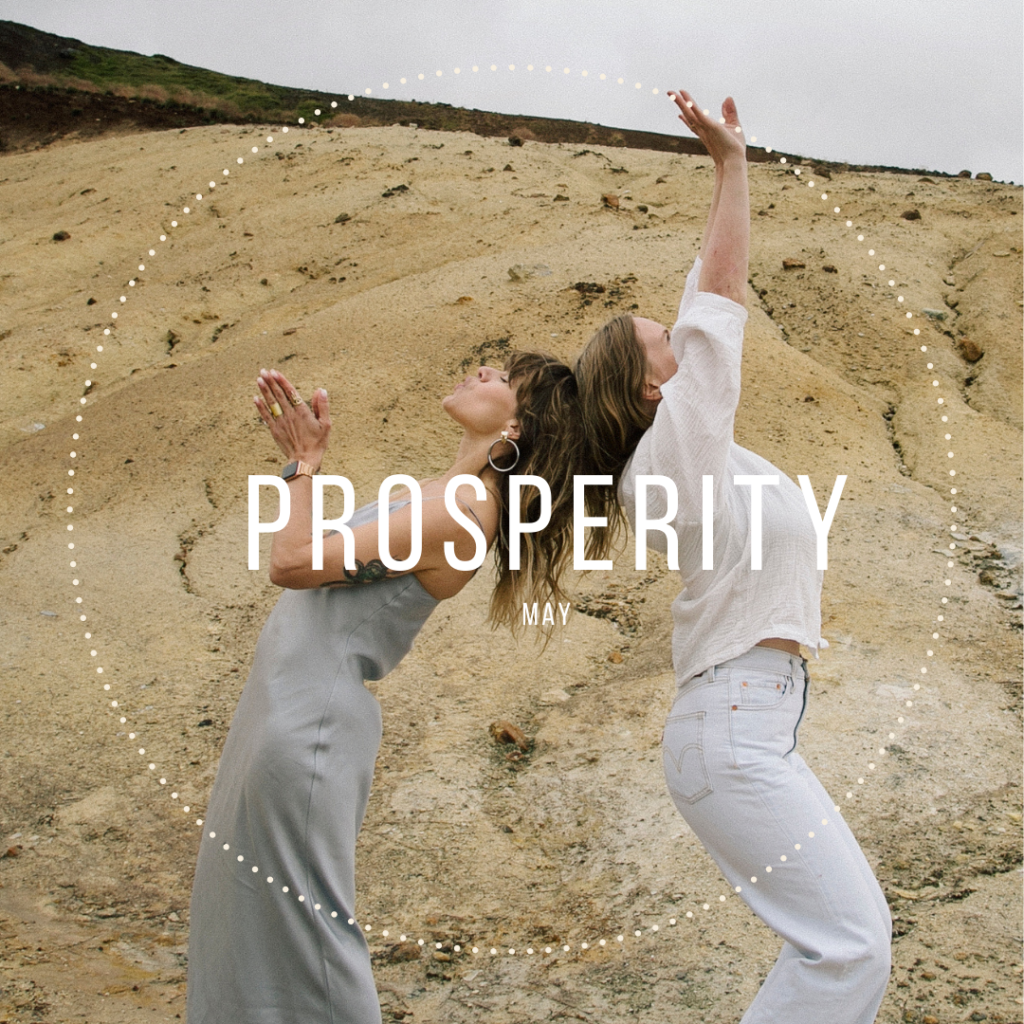 "RICH:ABLE TO AFFORD ALL THE THINGS AND  EXPERIENCES REQUIRED TO FULLY EXPERIENCE YOUR  MOST AUTHENTIC LIFE."  

– JEN SINCERO 

 
There are few areas of our lives that evoke strong feelings within us as prosperity. Much of this is due to conditioning we are taught from a young age – whether it be from our family or from the world around us. That there is not enough to go around, or that we are not enough. However, when we begin to unpack these domains – especially our stories around them – we can start to create new programming in the the hardware of our minds. In turn, we can begin to cultivate a different narrative so we can take our power back and write a new story on prosperity and what we deserve. The word prosperity means the state of being prosperous. So it really means what you want it to mean: money, opportunities, travel, relationships, family life, children, surroundings, material things, spiritual state, health ect. 
But if we want more prosperity, however we define it, we need to be able to hold more energy. So, if we are exhausted, it is not a magnetic state. Taking care of ourselves in any way we can, brings more prosperity and wellbeing. This is why below we explore our energy leaks and gains.
Another key thing in prosperity and abundance is showing up as our AUTHENTIC SELVES. This is a tricky one and something to work on for a lifetime. How can we be more of who we really are, not hiding, not letting fear make us small or change who we are. We do this with all sorts of self work and introspection, meditation, by keeping our word, letting go of what others think of us, and owning our shadows. Also here are 3 powerful things to keep you close to your true self:
Begin each day with gratitude: No matter what is going on in our life, we can always find something to be grateful for.  Begin each day by writing down (or thinking about) a few things that you find admirable about yourself. We have come to find that the more we appreciate ourselves, the more others appreciate us as well.
Guard your mind & energy: Like you, we get barraged with so much information each day. It is overwhelming! Whether you are aware of it or not, this information affects your thoughts and perspectives about yourself. We have become intentional about not living in passive-mode, accepting everything that comes at us. Instead, lets approach each day by imagining we have a "mental secretary" who can accept or reject information. This allows us to be intentional about what occupies our precious mental space. 
Affirm your potential: Whenever we approach a new situation or challenge, we don't just see it through the lens of our current capabilities, we also try to see it through our potential. We have found that when we affirm our ability to grow and become better, we shrug off public opinion and self doubt, which actually allows us to become our best self. Every day we try to affirm to ourselves not only what we are, but also what we can be.
ENERGY INVENTORY:  
Take 10 minutes to write this out:
 WRITE DOWN IN THESE TWO CATEGORIES INTUITIVELY WITH NAMES, ACTIVITIES, ANYTHING THAT YOU DO / THINK / ARE / HAVE.
— WHAT IS AN ENERGY LEAK IN YOUR LIFE?
ex: all areas/persons/activities/tasks in your life that take you more energy and resources away than the initial energy investment (physical and/or mental energy, time, money…).
— WHAT IS AN ENERGY GAIN IN YOUR LIFE?
ex: all areas/persons/activities/tasks in your life that give you more energy and resources than the initial energy investment (physical and/or mental energy, time, money…)., 
NOW WHEN YOU KNOW ALL THIS, WHAT ARE YOUR GOING TO DO ABOUT IT?
Mastering the mindset of wealth is choosing to think, feel and act about our financial reality in a way that  will make us rich, not keep us poor. Not only does this simple shift have the power to magnetize an abundance of prosperity our way, but this energetically liberates our body, mind and spirit from feelings of  "not enough" – the source of all lack. 
Because when we feel confident around money, our projection brightens, elevating other areas of our lives as well. This is grounding work that will help us strengthen and balance our first three chakras.  Rather than worrying about our current financial situation, we can practice having faith that the Universe will always send us what we need because it wants to see us succeed. The only thing standing in the way of our prosperity is our willingness to take responsibility and face the uncomfortable stuff required to grow. But remember! That is a big and important part of our spiritual practice. 
Now is the perfect time to dive deep and begin practicing these amazing and truly magical prosperity tools that we are giving you so that no matter where  and when you're ready to call in more!!  You have this incredible toolkit to support your practice.
WRITE IT OUT
First of all! There are two ways that people operate around money:   
THERE IS NOT ENOUGH 
VS.
 THERE IS PLENTY.  
Here is a little EXERCISE:
FEEL INTO YOUR EXPERIENCE AND HOW IT FEELS IN YOUR BODY WHEN YOUR ACTIONS  REFLECT A POVERTY/SCARCITY MINDSET
AND NOW WHEN YOUR ACTIONS REFLECT A  PROSPERITY/ABUNDANCE MINDSET. 
We also want you to write your money/prosperity story! It will allow you to change your relationship to prosperity so that you can be fully empowered and absolutely prosperous. This is a story and YOU are the author, YOU are totally and completely able to re-write the story, because it´s yours. 
WHERE I AM NOW vs.  WHERE I WANT TO BE.  
TAKE A DEEP BREATH, AND ACKNOWLEDGE WHERE YOU ARE NOW IN YOUR LIFE (THINK:  HEALTH / WEALTH / LOVE / DIVINE SELF-EXPRESSION).  
AGAIN, DEEP BREATH, AND NOW SEE WHERE YOU WANT TO BE. 
WRITE DOWN WHAT CAME TO YOU.
MONEY IS WHAT MONEY DOES
Here are a few Journal Prompts to help you get more clear about what prosperity, abundance, wealth and money means to you; Answer these:
WHAT'S YOUR RELATIONSHIP WITH MONEY? 
DO YOU HAVE ENOUGH? 
IF NOT, WHEN WILL YOU HAVE ENOUGH? 
DO YOU WANT TO BE RICH OR DO YOU WANT TO BE WEALTHY? ACKNOWLEDGE THE  DIFFERENCE BETWEEN THE TWO. 
WHAT DOES PROSPERITY MEAN TO YOU? 
WHAT DOES RADIANCE MEAN TO YOU?
PROSPERITY PRESCRIPTION
Because money is such a charged topic – within ourselves and in our culture/community – this work requires a few "ingredients" to keep you going in a momentum of change and transformation:  
PATIENCE, PERSISTENCE AND POSITIVITY 
As you begin to change your story, do whatever you can to fill your mind with inspiration around the topic. Read books, dive into teachings on prosperity, or listen to inspiring lectures / podcasts. 
Every morning we listen to a talk by Esther/Abraham Hicks on Money in order to  set the tone for the day (you can google ESTHER HICKS MONEY and youtube will show you hundreds of results).  
Do the prosperity meditations as well as changing habits. The meditations  will build in your field and day-by-day, do the heavy lifting for you of removing the blocks in your subconscious around this topic. 
We made a playlist for you to keep on repeat everywhere you go to be in a receiving prosperity mode. Where things flow to you effortlessly. Mantras that all have healing, releasing and abundance vibes. THE MANTRA – LAKSHMAN – This is the MONEY MANTRA. Play it in your house 24/7, chant it, use it whenever you need a boost. If you're  feeling any lack around money or start to feel negative, start chanting or playing the mantra. Replace the negative with a POSITIVE  (because mantra is a positive frequency). 
Prosperity talk & meditation
We chose two very powerful practices to teach you this month. Both very beautiful and powerful meditations. In the start of this video we also talk a little bit about the energetics of prosperity and being magnetic. The meditation itself starts on minute 8:00 if you want to use the video as a daily practice video. 
Connect to the sound current, vibrate the mantra BAHOTA KARAM mentally, find deeper and more radiance by practicing this meditation every day this week. Notice how you feel in your body before and after the practice — if possible at the same time of the day. This meditation is called "A Meditation to brighten your radiance" and is breathwork, mudra and meditation all together in one. 
The tune in mantras are: 
Ong Namo Guru Dev Namo 
&
Ad Guray Nameh, Jugad Guray Namehm, Sat Guray Namehm, Siri Guru Devay Nameh
Translation of the later mantra:
I bow to the primal wisdom. I bow to the wisdom through the ages. I bow to the true wisdom. I bow to the great unseen wisdom.
This is a 3 minute meditation video of HAR HAR to add to your daily practice for more prosperity. "This meditation can be done for up to 11 minutes. It is so powerful in bringing prosperity that more than 11 minutes would be greedy. This meditation stimulates the mind, the moon center, and Jupiter. When Jupiter and the moon come together, there is no way in the world you will not create wealth." -YB
Talk with Helgi Ómars on prosperity
Helgi Ómars is a photographer, influencer, content creator, host of a podcast & tv personality that is very magnetic after coming up from a dark time. He is also very connected to his authentic self which brings him opportunities without strain and force.