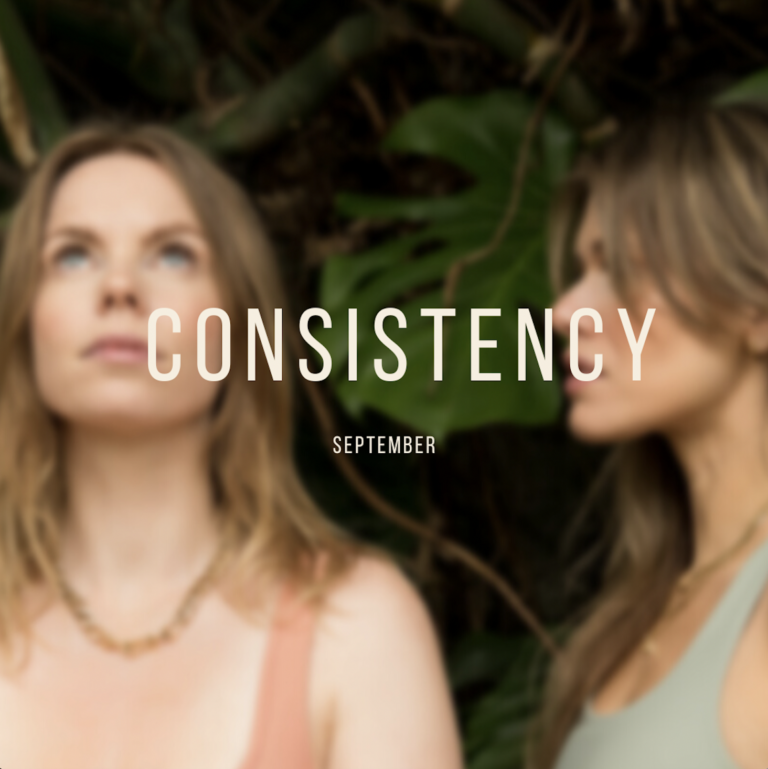 Dear Ritual Club
While we love a positive mindset along with relevant action one critical ingredient that is commonly missed by people is the magic and beauty in consistency.  
Most people desire consistency in so many ways. They would like a consistent inflow of money. They would like consistent great health and mental state. They would like consistent carrier and blooming relationships. But yet they fail to behave in a consistent way carrying out daily tasks that deliver all of those things.
We so often meet people who will try something for a few days and when a miracle hasn't occurred, they default back to doing the same thing that they have always done, which never worked for them in the first place.
It's an absolute fact that if you can learn to do something consistently, you will discover much greater strengths and opportunities within yourself than you could have ever imagined. So many people amount to a fraction of their true capability because they are so inconsistent with what they do. 
So our focus this month is up-leveling our consistency, the perfect fall virgo energy mode!
We are going to commit to daily practices, to do´s, and things that bring us closer to our vision and then we are going to COMMIT even more. Explore our why and look at your vision. Commit to doing this/these action steps daily without being in lack and waiting for a result, but with enjoyment and excitement of consistency. 
Set a timer for five minutes and journal: 
What comes to mind when you think of consistency?
Who are your consistency expandors and in what way are they consistent?
Where are you always consistent?
Where do you need to be more consistent?
What is your consistency goal/s this month?
6 Tips to Becoming More Consistent
Use a planner & put your consistency goal into each day like a normal meeting
Place reminders around your home, workspace, and belongings.
Prioritize sleep – if you get to little sleep, everything else will be harder
Include some fueling foods into your diet, that give true energy: avocado, beets, seaweed for example and vitamin D!
Celebrate the small victories and when you have been consistent for x amount of time!
Follow some inspirational  accounts on facebook or instagram (not ones that make you feel bad about your life though! just juicy inspiration) so you get constant motivation.

Dagný & Eva sit down to discuss the theme, how consistency is the key to reaching our visions.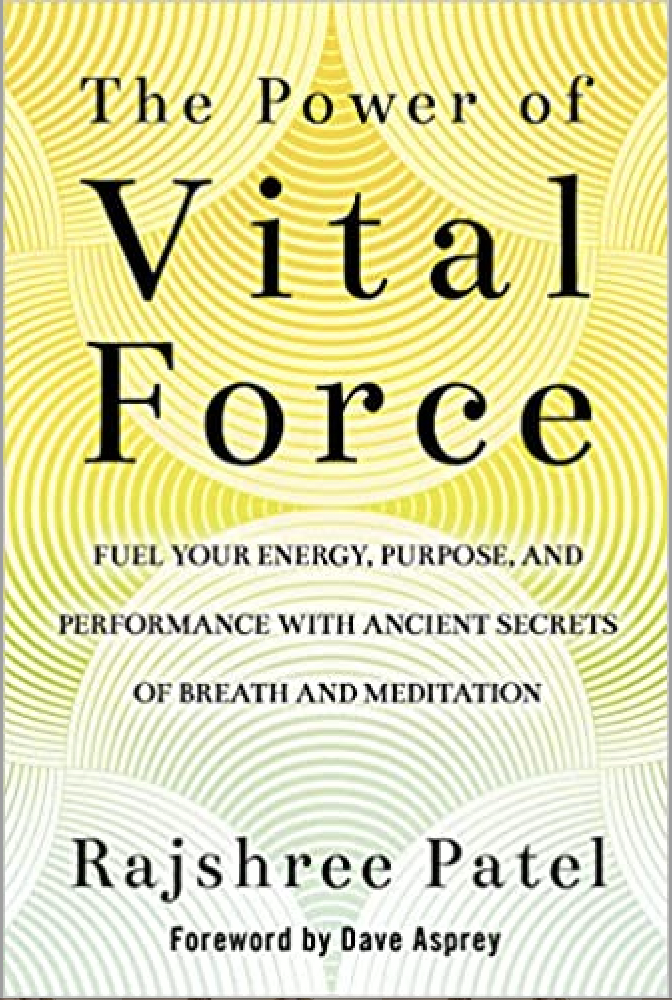 We have been planning to read this book for months! Now is the time to get inspiration to do meditation, breathwork and everything that makes us shine. Why do some people thrive while others just get by? What's their secret to peak performance and maximum happiness? Some call it the zest, the gusto, or the extra edge in life. The ancient Indian spiritual tradition Vedanta calls it prana, or life force. We can call it vital force. By any name, it's the fundamental fuel that activates and optimizes all physical, emotional, and cognitive functions, including consciousness, perception, thinking, judgment, and memory. In modern life, we have forgotten the golden key-the higher our energy, the better our performance in everything we do. Energy naturally impacts mind-set and moves us toward greater happiness, success, and self-awareness. This book gives you back your power with simple tools to take hold of the limitless energy of life itself-more swiftly and easily than you ever thought possible.
8 stroke breath for energy & stress release
This pranayama brings your focus back to the breath. Practicing pranayama on a regular basis can do so much! Lessen stress, increase focus, better skin ect!
It is said that practicing thir 8 storke breath every evening for 11 minutes can restore the prana you have consumed throughout the day, and move you from stress to rejuvenation.
Try it both sitting up and lying down. 
ELEVATION KRIYA - MOVEMENT
This easy set of exercises is excellent as a warm-up and a tune-up. It systematicaliy exercises the spine and aids in the circuIation of prana to balance the chakras.
RITUAL TALK WITH ERNA BERGMANN
Finally we sit down with Erna Bergmann creative director. In this chat with ERNA BERGMANN we go through her personal story towards a more yogic lifestyle, the creation of her magazine BLÆTI and her sustainable swimwear brand SWIMSLOW that is our absoloute fav swimwear brand in the world!
Ritual recipe of the month: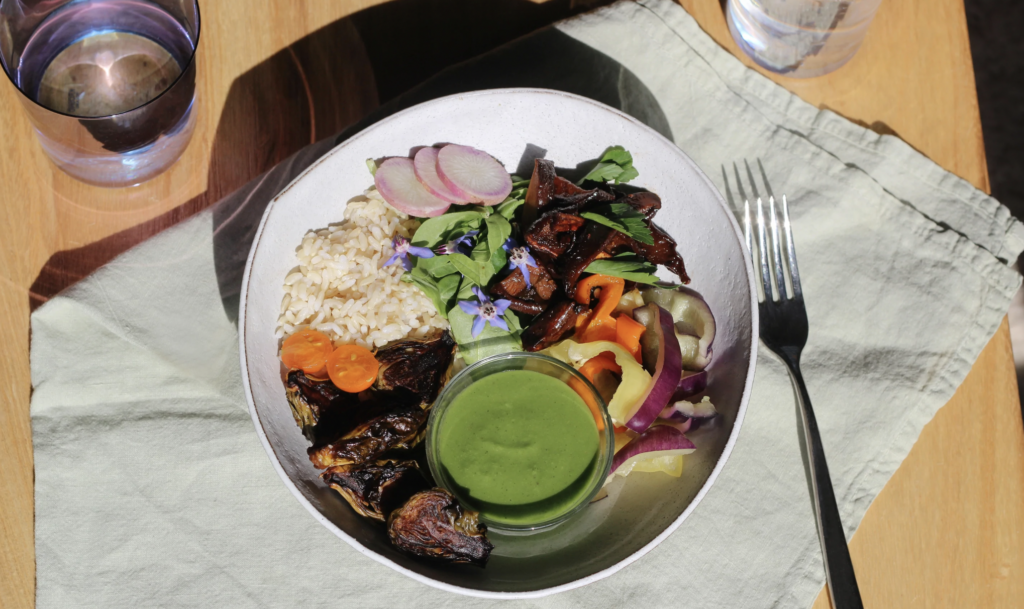 Here in September, we're collectively experiencing Virgo consciousness. Virgo season celebrates the body as a beautiful vessel, a time to honor health and physical well-being. The ruler of the digestive system, Virgo embodies all that is practical, analytical, and striving. This season also denotes a shift—from late summer into fall—and the foods we gravitate reflect the change: grounding and wholesome, just like the Earth sign herself. 
We invite you to celebrate your health and vitality with this equally vibrant, plant-rich bowl. In true Virgo form, it's no-nonsense yet interesting, and has impeccable taste; the balsamic Brussels sprouts and umami mushrooms are to thank. 
Ingredients: 
Balsamic-roasted Brussels:
12-15 Brussel sprouts, cut in half lengthwise
2 tablespoons balsamic vinegar
1 tablespoon olive oil
2 teaspoons maple syrup or honey
Salt + pepper to taste
1 bell pepper, sliced
Glazed mushrooms:
10 fresh mushrooms (Shiitake or oyster recommended but anything works), sliced
1 tablespoon soy sauce or tamari
2 teaspoons olive oil
1 teaspoon apple cider vinegar or rice vinegar
1/2 teaspoon maple syrup or honey
1 garlic clove, diced
Salt and pepper to taste
Dressing
Ingredients: Makes about 1 cup (use half for this bowl, keep half for later)
1/2 avocado, pitted and peeled
1/4 cup + 1 tablespoon fresh lemon juice
2 tablespoons nutritional yeast
1 and 1/2 tablespoons hemp seeds
1 clove garlic, roughly chopped
2 teaspoons Dijon mustard
1/4 teaspoon freshly ground black pepper
1/4 teaspoon Himalayan salt
3 and 1/2 tablespoons extra-virgin olive oil


Everything else:
1.5 cups cooked brown rice
2 cups fresh greens


Directions: 
Preheat the oven to 400F and line a baking sheet with parchment paper.
Cook the brown rice according to package directions.
While the rice is cooking, place chopped Brussels sprouts in a bowl with balsamic vinegar, olive oil, maple syrup, salt, and pepper. Toss until Brussels are well coated and place Brussels on the baking sheet. Place in the oven and roast for 25-30 minutes, until tender.
In a pan over medium heat, pour a tablespoon of olive oil, followed by the sliced mushrooms. Sauté for 3-5 minutes until they begin to brown.
Turn heat to low and pour in soy sauce or tamari, apple cider vinegar, maple syrup, salt + pepper, and diced garlic. Stir all ingredients well until mushrooms are coated and sauté an additional 5 minutes, stirring often until mushrooms are browned and glazed. Remove mushrooms from pan and set to the side.
Place the pan that the mushrooms were cooked in back on the stove and turn the stove on to medium heat. Pour a little olive oil followed by the sliced bell peppers and sauté for 5 minutes until lightly browned and softened.
Place cooked brown rice in a bowl, followed by greens, bell peppers, mushrooms, and Brussels sprouts.
In a blender, combine all the ingredients of THE DRESSING except the oil. Blend until smooth. With the blender running, slowly stream in the oil until the dressing is thick and emulsified.


ENJOY RIGHT AWAY!